Slide Bracelets
The history of slide bracelets
Most slide bracelets are based on Victorian Era styles, 1837-1901. Women would wear a pocket watch on a chain around their neck with a slide on it for decoration. In the 1930's collectors started putting these decorative slides on gold chain bracelets. Decades later the designs became more modern and lighter. Today, slides are also known as Victorian slides, slider bracelets and slider or slide charms.
We started making slides in 1985. In the 1990's there was a revival of collecting and wearing slide bracelets. You could purchase them in stores like Service Merchandise, The Museum Company, Parisians, and at many jewelry stores throughout the US.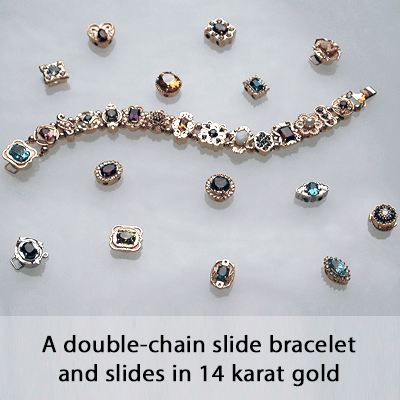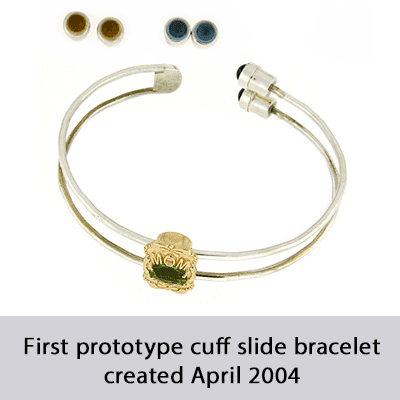 The cuff slide bracelet
In 2004 we created the first solid wire cuff bangle slide bracelet with twist-on ends. These removable ends allow the wearer to add and remove their slides. It does not have the wire-fraying problem that can occur with cable slide bracelets. Other companies have made versions our cuff slide bracelet. Many are using hollow tubing and thin stamped metal for the end. Although we are flattered by the imitators, we do not cut corners on our cuff slide bracelets: solid wire and solid ends results in a higher quality and better feel.
Our slide bracelet slides
In 2013 we decided to offer all of our slides and slide bracelets in not just 14 karat yellow and white gold, but also now in 10 karat yellow and white gold and sterling silver. We have over 800 different slide designs available, and continue to add new designs each year. Each slide design is available with different stone combinations.
Visit our online catalog to see some of our slide bracelet slide designs and available stone options.